The main mission of the library is to provide and develop qualitative resources, services and environment to support learning, teaching and research at Riinvest College.
Riinvest College Library "Ekrem Beqiri" is located in college premises, which provides students with the necessary space for independent reading and research. The library is equipped with an optimal fund of titles from advanced scientific and academic literature, including all related fields of study. In the library you will find books, scientific journals, research reports, students' thesis and other necessary academic materials that help the students in their studies at our college. The electronic libraries at Riinvest College provide students with access to worldwide electronic libraries and databases, which facilitate student research work. Online databases are used only in the Riinvest College premises.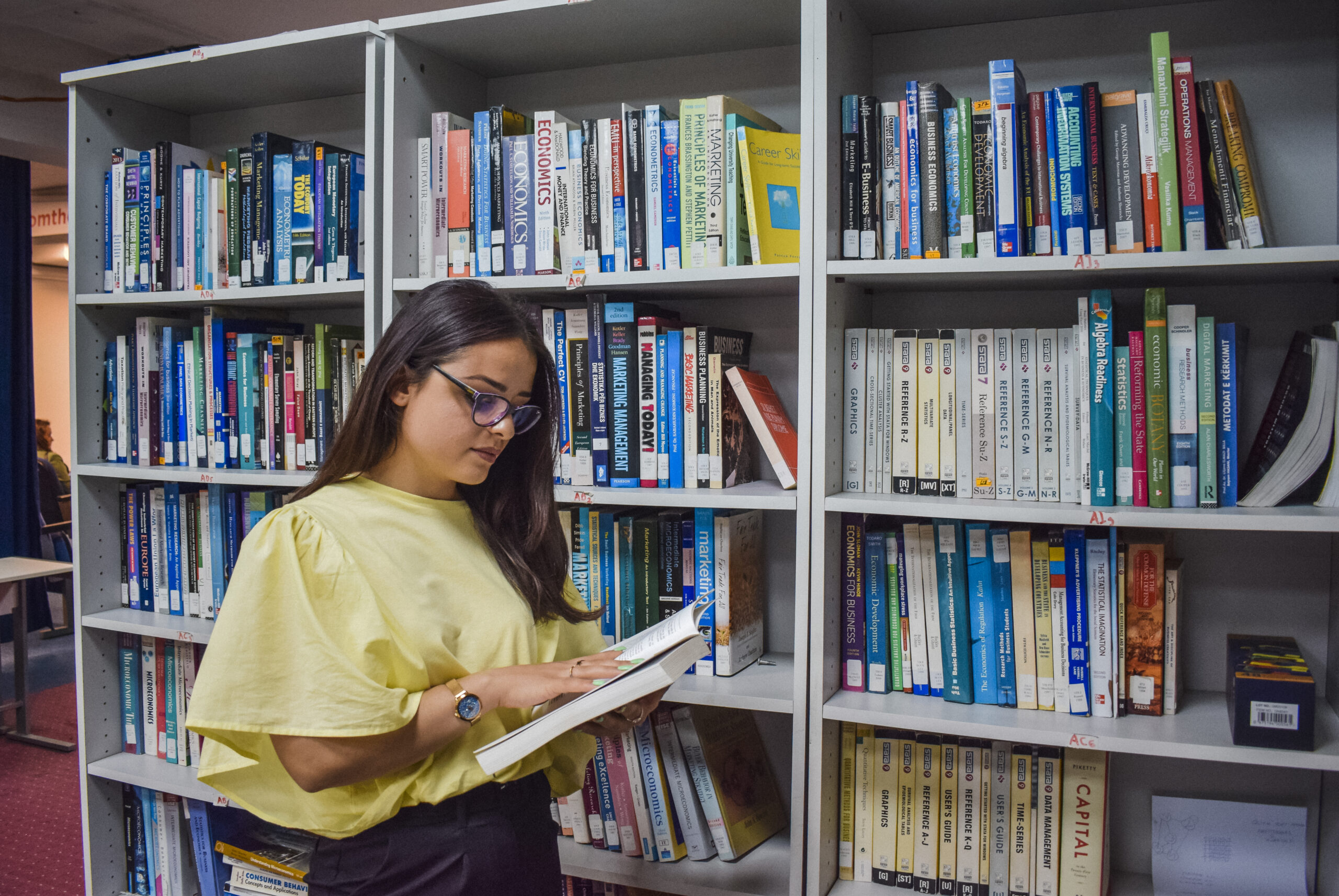 Regarding this matter, Riinvest College has contractual agreements with these online libraries:
JStor
LSE & UoL Library
Database – Riinvest Institute
Working hours of the Library are:
Monday to Friday 09:00 – 20:00
Saturday 09:00 – 17:00
The main aim of the Library is to:
Provide training for all students and staff on how to access the online libraries and related tasks
Provide access to research data conducted for students
Have a sufficient fund of books that will support learning and teaching processes
Establish collaborations with other private and public libraries.
Access to the library: Every student at Riinvest College is provided with an ID which allows access to the physical and electronic library. You must ensure you have your ID with you before you can access the library.
All students, teaching and administrative staff of Riinvest College can borrow the material for usage outside our premises. Nevertheless, below you may find some of the rules for borrowing a reading material:
The book can be borrowed for a period of 14 days maximum;
The book can only be borrowed by using student ID card (the latter remains in the library);
To extend the deadline, the borrowed book must be brought to the library, the deadline is not extended by e-mail, telephone or any other electronic form;
The borrowed material, which is returned to the library must be presented to the responsible person in the library;
Magazines, newspapers, reference books (dictionaries, encyclopedias, etc.) cannot be borrowed.